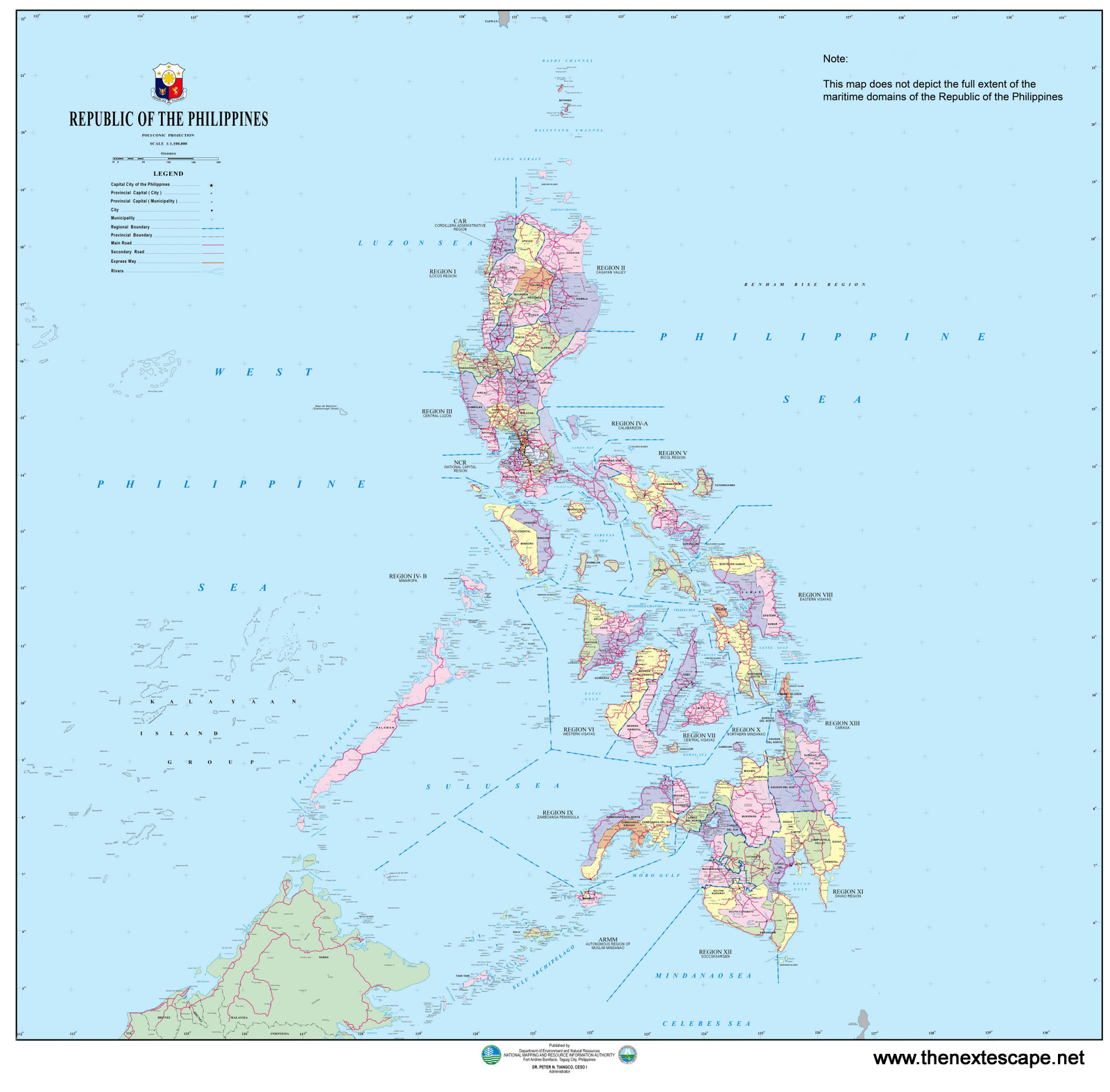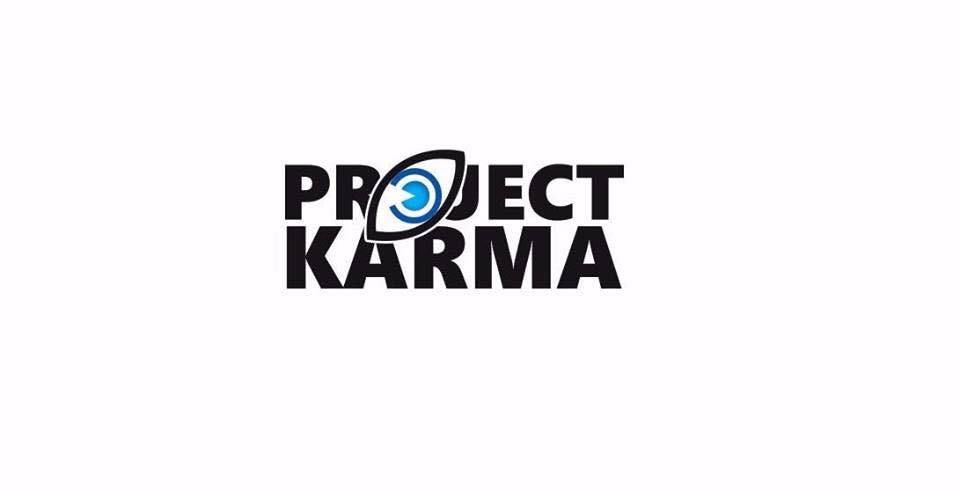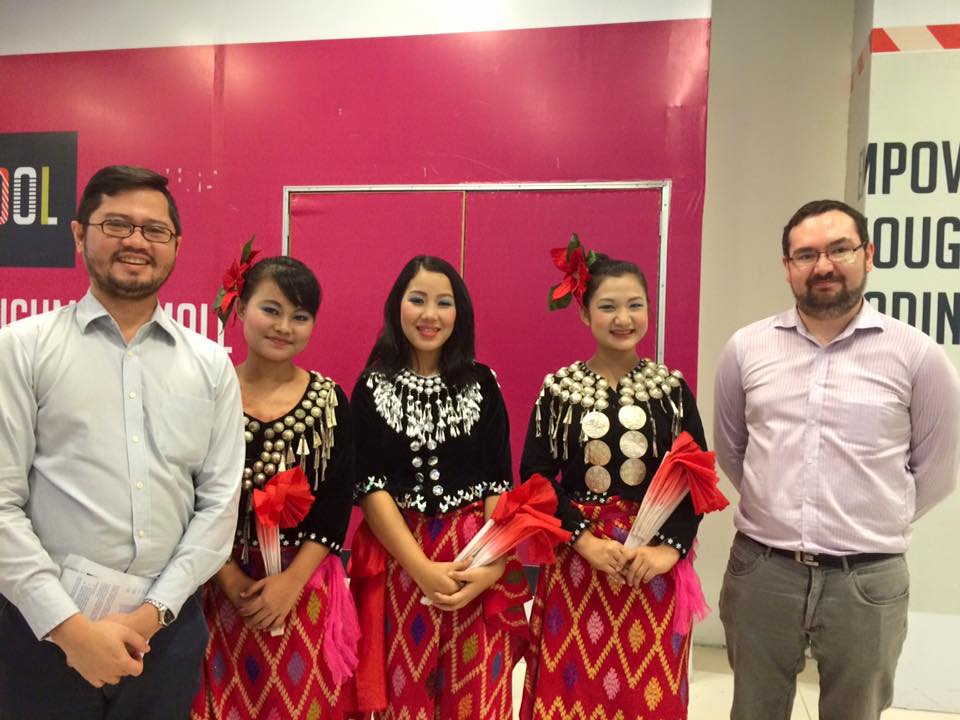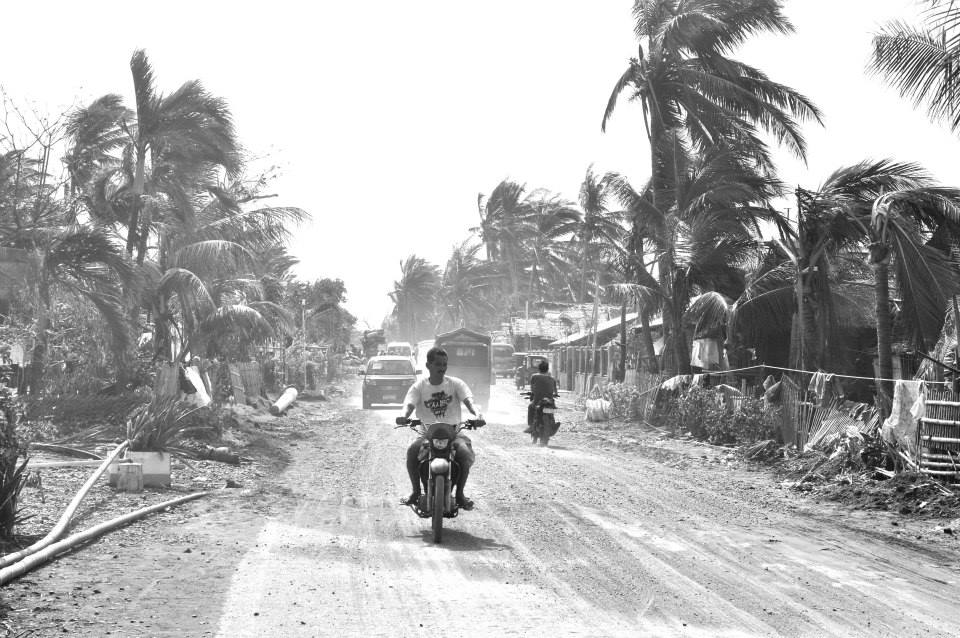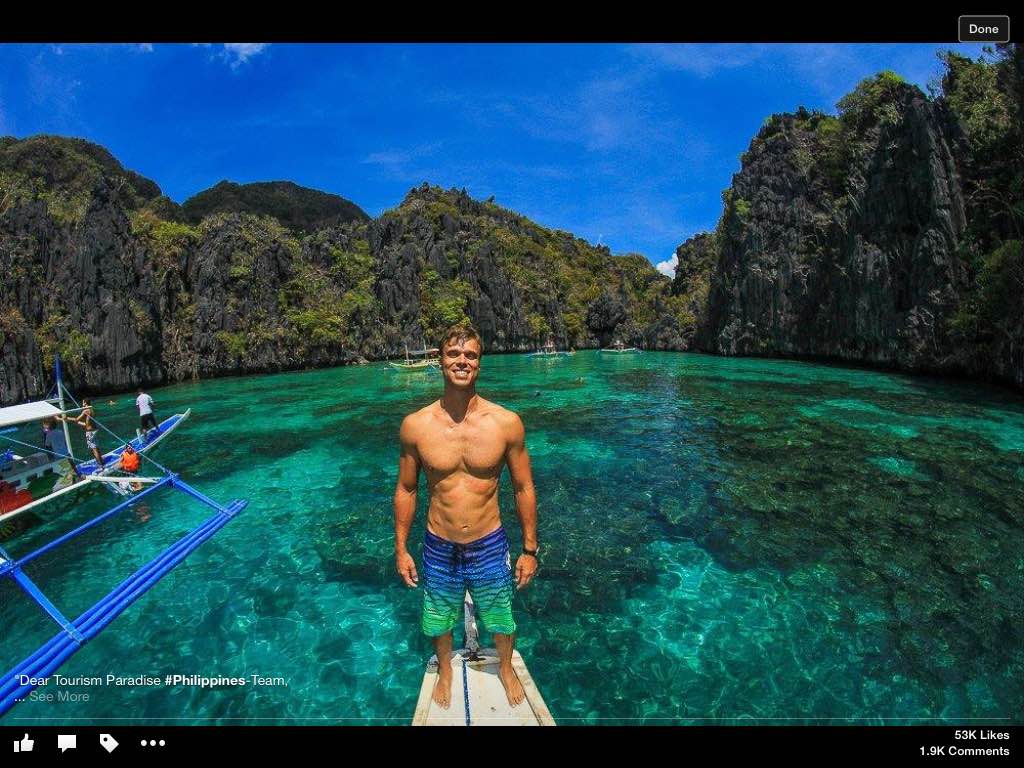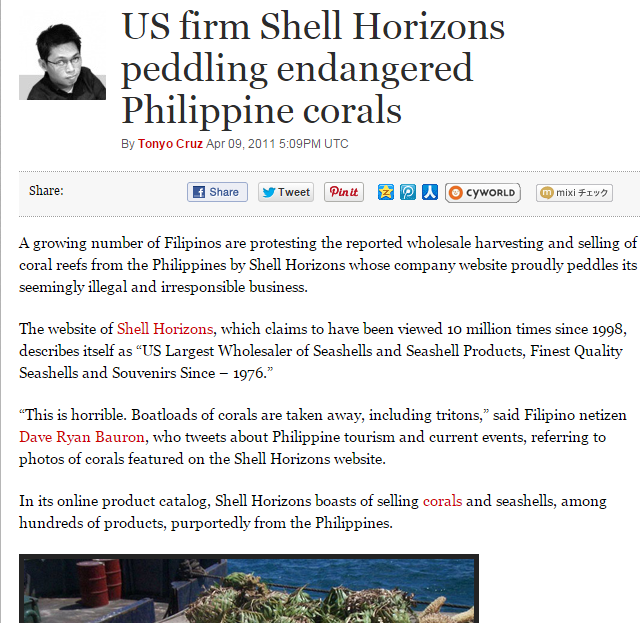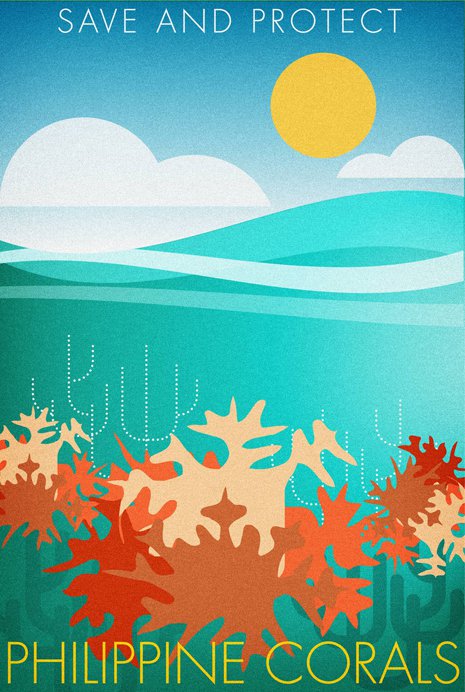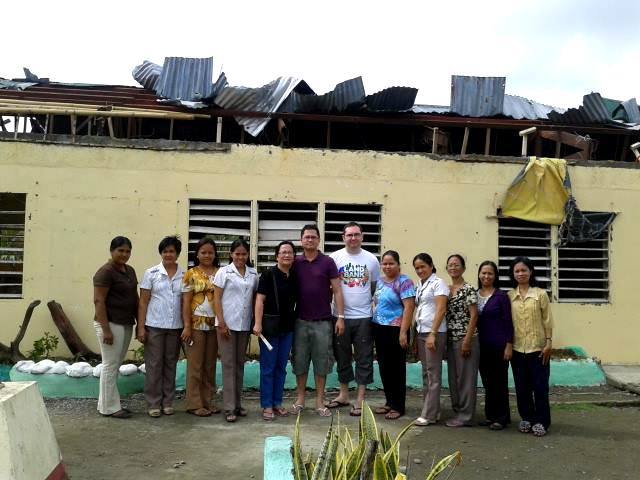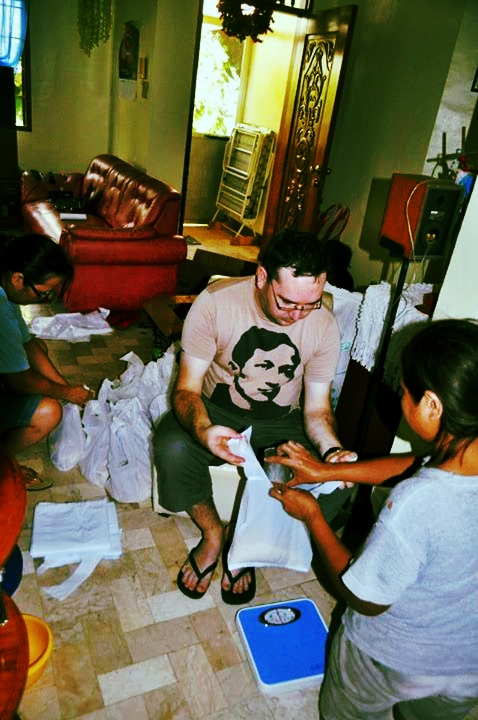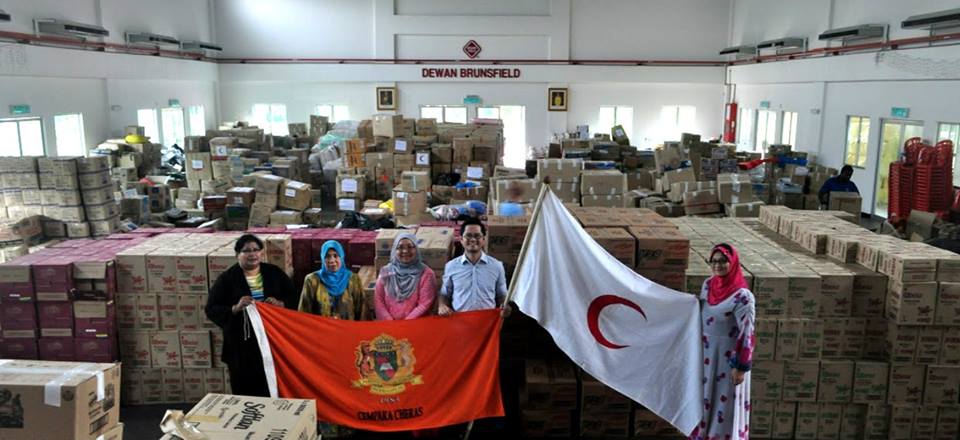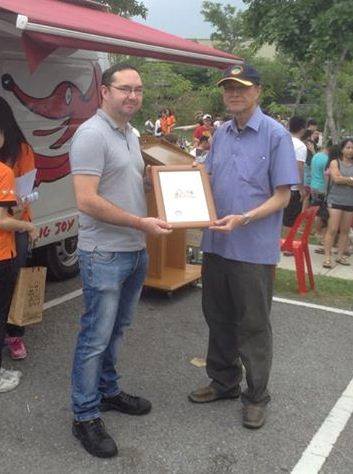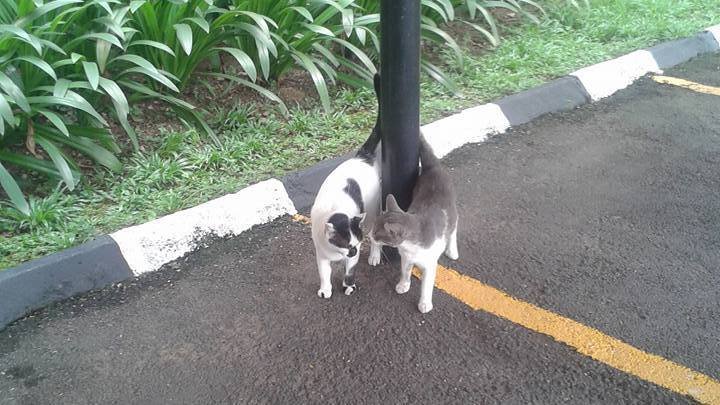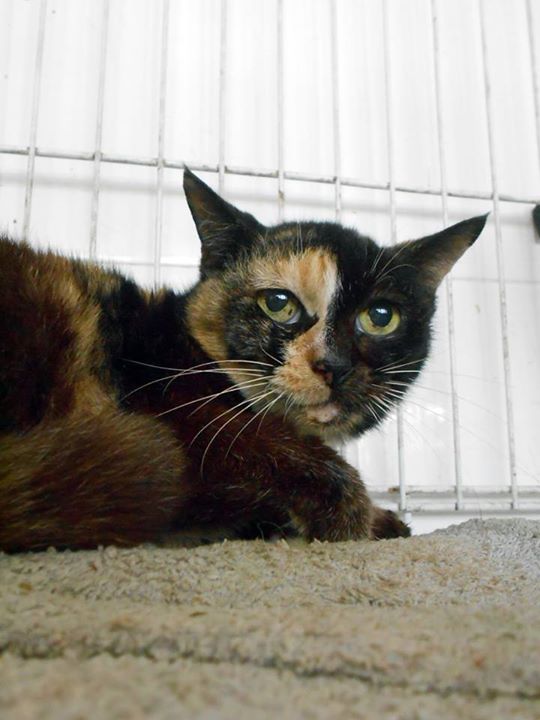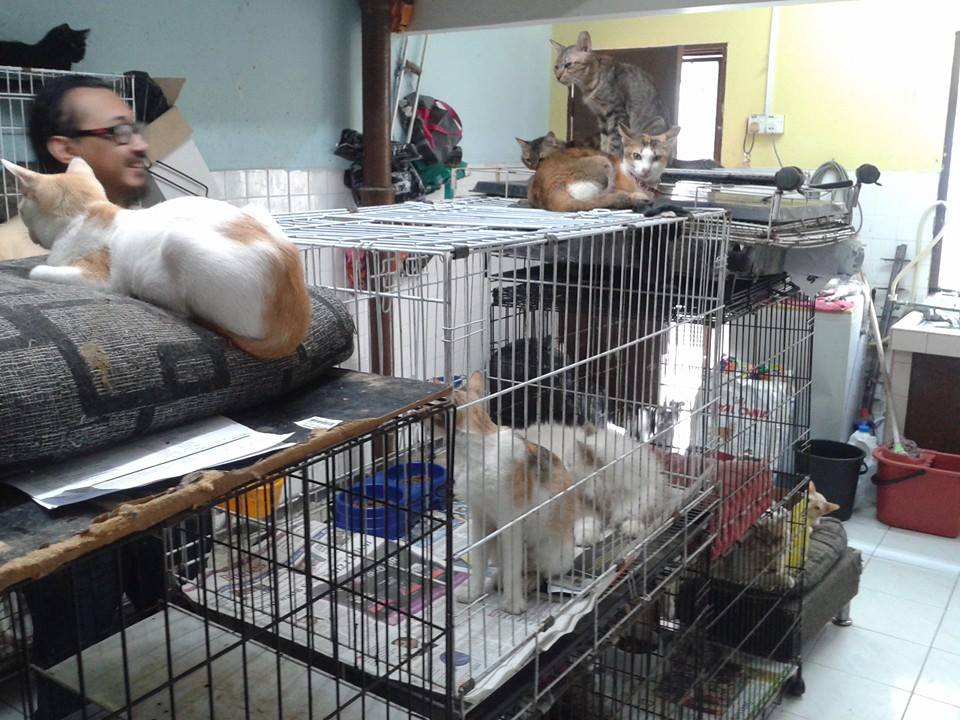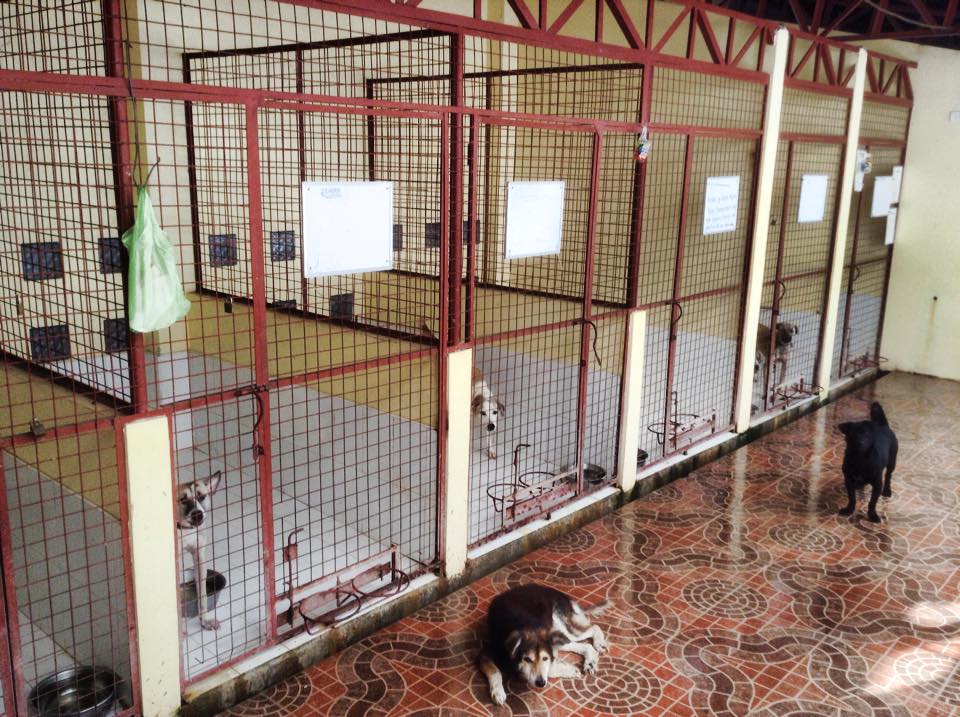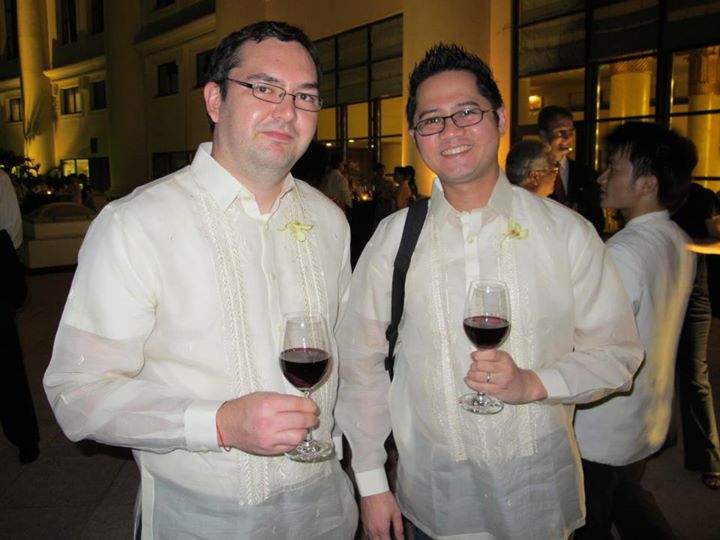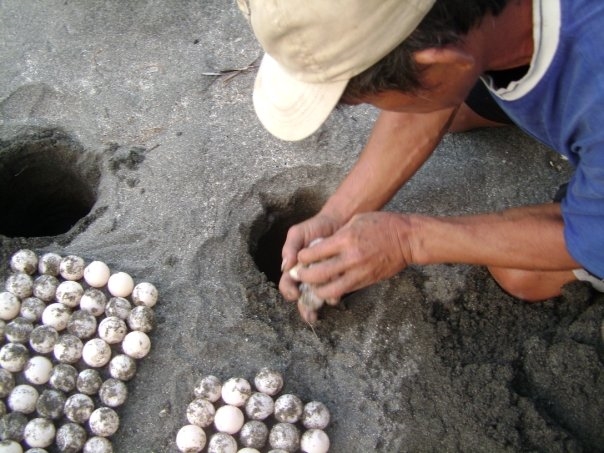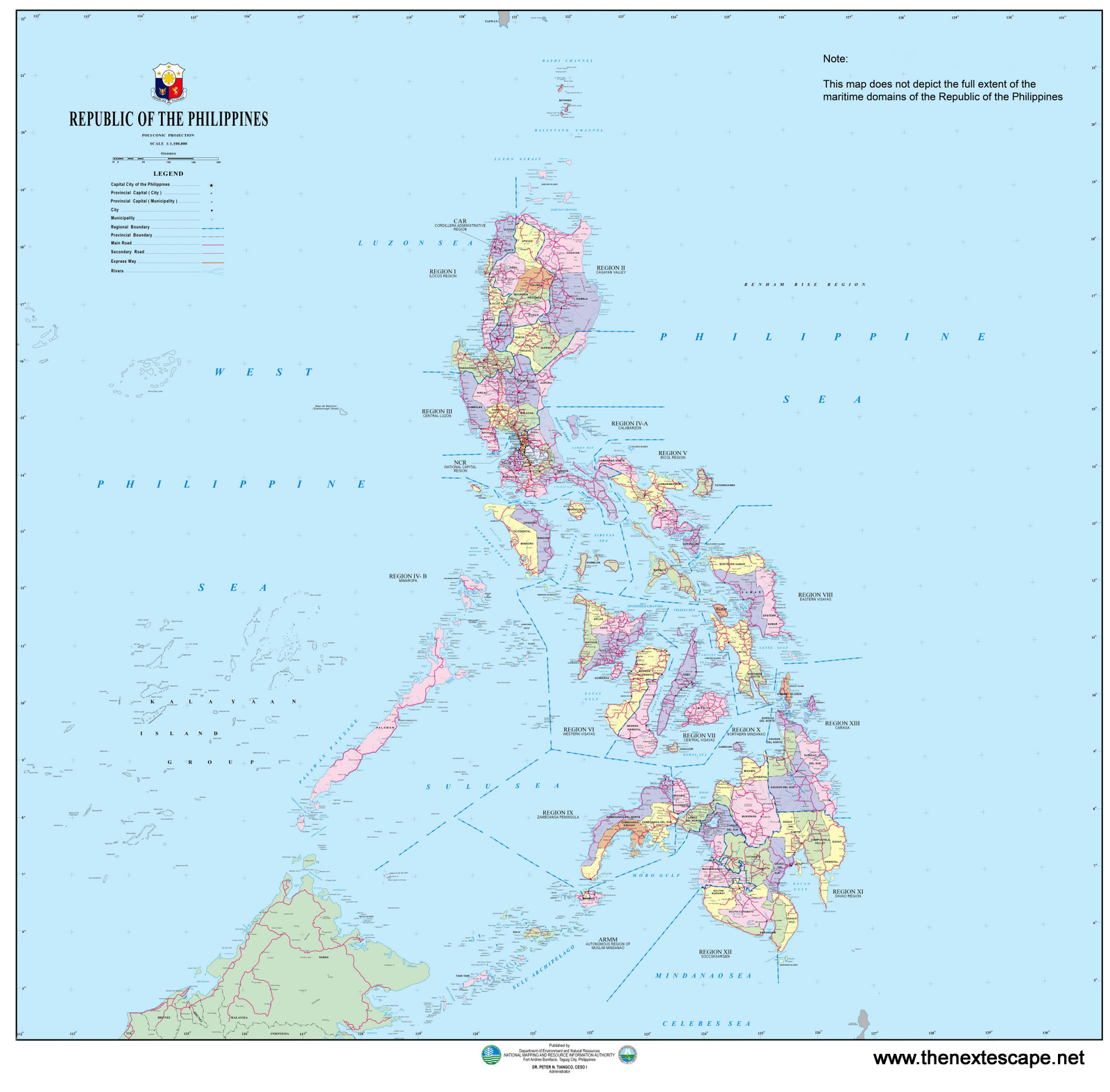 The Updated Map of the Republic of the Philippines
In view of recent events where the Permanent Court of Arbitration in The Hague have delivered a sweeping rebuke of China's unacceptable behaviour in the West Philippine Sea in a landmark case, we saw it fit to enlighten the general public about the Philippine sovereign territory. It's actually quite difficult to get hold of an updated map of the Philippines, whether online or offline.
You may download the high resolution map of the Republic of the Philippines (which includes the West Philippine Sea and the Benham Rise Region) here (37.9MB) and a smaller, resized version by clicking on the links below.
You may also download a copy of The Hague Press Release on their decision below:
The Hague Decision on the West Philippine Sea arbitration
This map was provided by the National Mapping and Resource Information Authority (NAMRIA) of the Republic of the Philippines.
For more information: http://www.namria.gov.ph/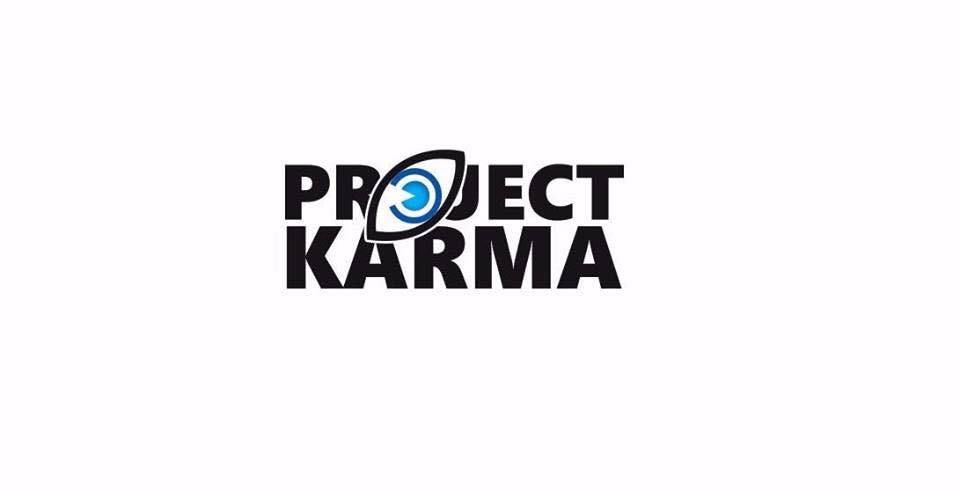 Strategic Partnership with Project Karma
Started by ex-police officer Glen Hulley from Australia, Project Karma is an international undertaking focusing on investigation of child exploitation and trafficking for child sex abuse in Southeast Asia. It seeks to bring foreign and local child sex offenders to justice in the region and rescuing children from sexual abuse and human trafficking for prostitution.
We at The Next Escape feel that as responsible travellers, we must always bring a positive impact to communities we visit- not only in respecting the local cultures and the environment but also to advocate goodwill. We understand that that's not the case all the time. According to a UNICEF report in 2009, 30% of the sex workers in the Mekong sub-region are between the ages of 12-17 years old.
We hope that being a strategic partner, we can echo Glen's work in bringing these perpetrators to justice.
For more information on Project Karma and how you can help:
To support his campaign, click here. You may also contact him through Project Karma's Facebook Page.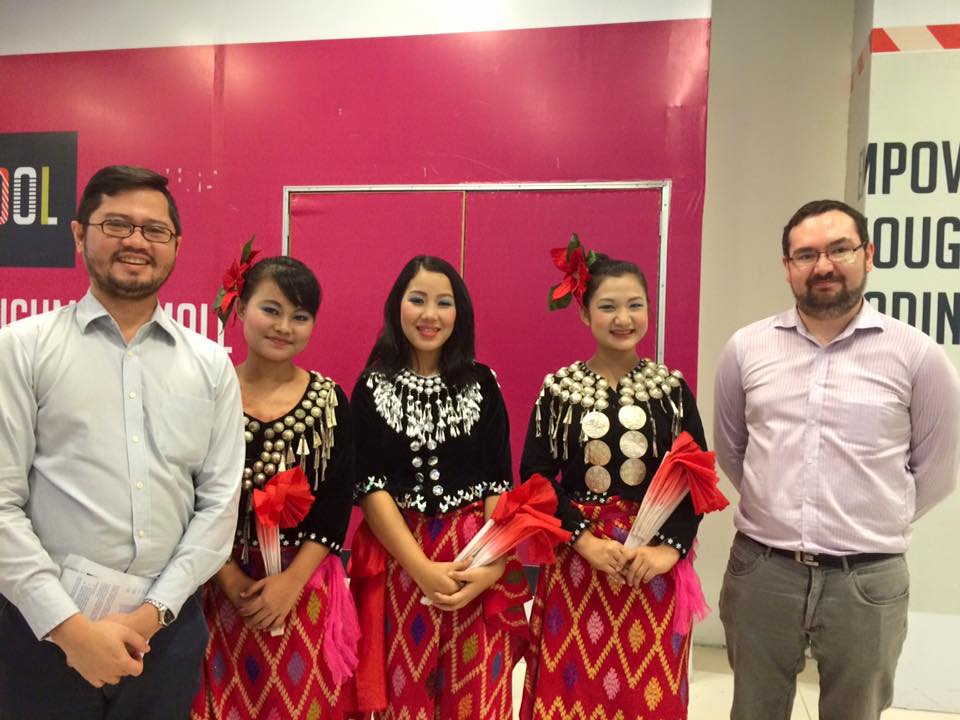 World Refugee Day 2015
Over the weekend, we were invited by the United Nations High Commission for Refugees (UN Refugee Agency) in Malaysia to commemorate World Refugee Day. at The School, Jaya 1, Petaling Jaya. It was a chance to meet and hear the stories of refugees in Malaysia.
In this photo are Chin refugees from Myanmar.
Fast Facts: There are about 49,600 Chins, 45,910 Rohingyas, 12,320 Myanmar Muslims, 7,280 Rakhines & Arakanese Refugees in Malaysia.

On top of that, there are 3,890 Sri Lankans, 1,210 Pakistanis, 1,090 Somalis, 950 Syrians, 830 Iraqis, 540 Iranians, 430 Palestinians and others from other countries.
During the launch, there were performances by refugee children as well as speeches from the chairman of Human Rights Commission of Malaysia and the UNHCR. Children from Rohingya and Chin communities also told their stories of escape, survival fleeing persecution in Myanmar and the challenges of living in Malaysia.
There was also an art bazaar to help raise funds for various causes. A few of the booths were manned by refugees from Palestine, Syria, Iran and many others.
The Next Escape's founders Ryan and Scott are both part of the Technical Working Group for Education volunteers for UNHCR in Malaysia.
#NepalEarthquake: Here's how you can help
Nepal is reeling from a 7.8 Magnitude earthquake, the strongest to hit the country in 80 years and saw thousands of people either dead or missing and rendered so many homeless people in dire need of food, water and shelter.
Here's the list of international organisations you can contact and offer assistance:
International Federation of Red Cross and Red Crescent Societies
As of this writing, there are over 4,000 fatalities and with the number expected to rise in the coming days. The scale of devastation is unprecedented with many buildings, including world heritage sites either partially damaged or totally destroyed and the massive economic damage is expected to take a toll on the already struggling economy.
Known for its rich culture and breathtaking mountain vistas, Nepal has been and always is one of our most favourite countries. Despite the impoverished situation, the Nepalese that we have encountered have always been kind, gentle and hospitable.
So please open your hearts and your wallets, and help people help the country back on its feet.
#CyclonePam: How to Help Vanuatu
Cyclone Pam has caused widespread devastation in the tiny Pacific country of Vanuatu. The Category 5 monster was one of the worst ever cyclones that hit the South Pacific and with 270km/hr winds was the strongest storm to ever hit landfall since the Haiyan wreaked havoc in many parts of the Philippines in 2013.
Here's how you can help:
Oxfam Australia - donating as little as $49 can pay for emergency hygiene kit with items such as soap, blankets, underwear and basic toiletries.
UNICEF New Zealand's Vanuatu Emergency Appeal - UNICEF is on the move to reach outer islands and provide access to clean water and top the spread of water-borne diseases.
World Vision Canada - Cyclone Pam Response aims to provide shelter kits made up of tarpaulins, nails, hammers, saws, ropes and shovels to help restart the lives of the people of Vanuatu.
Australian Red Cross - Page directs to its Vanuatu Cyclone Appeal. You may be able to donate online, in person (in Australia), or via phone 1-800 811 700.
Vanuatu is an Oceanian island nation located in the South Pacific Ocean surrounded by Australia, New Caledonia, Fiji, Solomon Islands and New Guinea.

(Image Credit: Google Maps)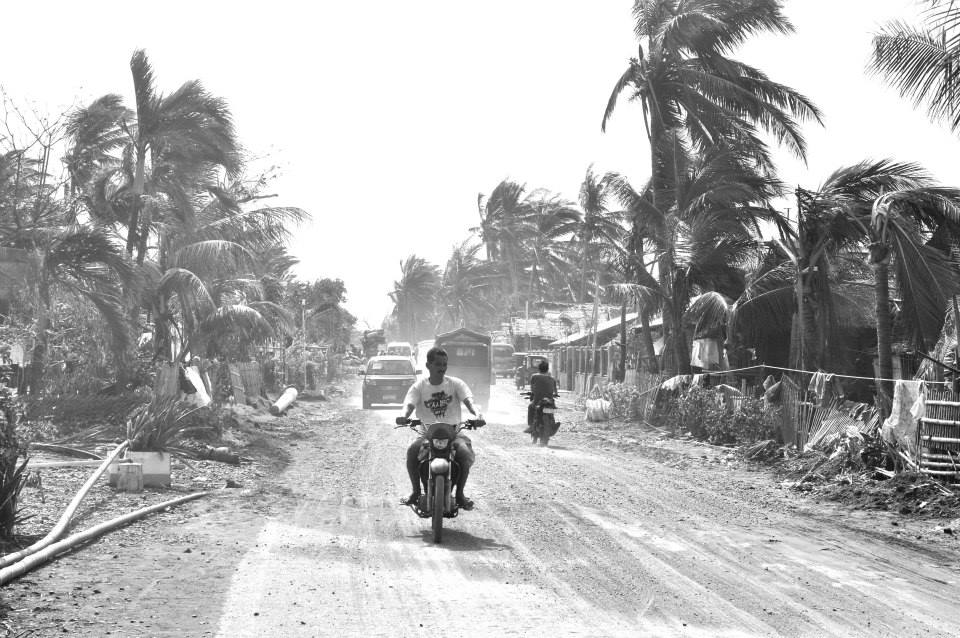 Homeless but not hopeless
A reprint from a blog post I made last year:
At half past midnight on the 8th of November 2013, I received a call from my mother. A call that I knew I would be getting sooner or later. After suffering more than six months due to cancer of the urinary bladder, my father passed away. I was devastated. But I really did not have the time to mourn. I was alone in my apartment with my two cats, and my father's passing made every moment even lonelier. It wasn't over however.
At this time, I knew from news all over Twitter and Facebook that a very powerful typhoon was roaring towards my country. And my hometown and surviving family looked like they were right in its direct path. I frantically contacted my mother and sister to make sure that our house was secured, and that they and my father's body were safe. In 2008, our house was flooded during the onslaught of Typhoon Fengshen. I did not want to relive the memories of not being able to contact my entire family for two whole days again.
You see, typhoons and earthquakes are common in the Philippines. Not only do we sit on the Ring of Fire, but we are also right in the path of typhoons forming in the Western Pacific. In one year, we average 20-30 typhoon strikes. However, Haiyan (which we call Yolanda, as we have a different naming convention for storms entering the Philippines) was different. The ferocity of which, was unmatched in recent memory. With winds gusting around 380kph and sustained winds at 315kph, it's equivalent would be standing behind a jumbo jet taking off.
I had already booked tickets prior to my father's passing. I meant to go home on the 13th of November - a day before my father's birthday, and mine. Due to debris on the runway, the airport was shut down for three days, and I had to move my flight to the 11th when commercial flights were allowed to land. When I landed in Manila, I went to the Philippine Airlines office to have my tickets coming back to be moved as well. One of the people queueing was a man who worked for the immigration.

When I asked him where he was going, he replied that he was looking for flights to Tacloban or anywhere nearby. When I asked how his family was, he replied that they were still looking for them as there was hardly any communication coming out from the city of over 200,000. I tried to reassure him that perhaps his family was fine after all. To which he said that their house was right in the hardest hit area of the city. From the sound of his pained voice, he seemed resigned to the fact that he had very possibly lost ten members of his family. He then recounted to me how corpses were floating out in the bay and under the scenic San Juanico Bridge. There were too many bodies laying about with nobody giving them a proper burial. The grisly stories coming out definitely gave me a different perspective about my own personal loss.
I finally got on an earlier flight to Kalibo, my hometown, over 450 kilometers south of Manila, and there were only 14 passengers on that plane. I did not even know we were about to land because the entire city and province was pitch black - only a few buildings with their own generators had any light in them. The darkness was oppressive. On my way from the Kalibo International Airport to the funeral home where the wake was being held, I could see the outlines of fallen trees, electricity posts and damaged houses in the dark. When I got to the funeral home, I met my mother, sister and my father. We were using our own family's generator which my father bought in 2008 after Typhoon Fengshen to ensure there was some light in case of emergencies.
I looked out onto the balcony where I was confronted by darkness. Usually around this time of the year, the entire country is filled with twinkling Christmas lights. The Philippines celebrate the longest Christmas season in the world starting from the 1st of September until the first week of January. But there was none of that this year. At daybreak, I saw visible damage in some parts of the town centre, more noticeably along the outskirts and the river where houses made of light materials were partially to totally damaged. Thankfully, ours was fine. I visited the coastal village where I was born and majority of the houses sustained a significant amount of damage, including my late grandfather's house which was pretty much destroyed. I haven't been there since 1998. I visited the school which my father helped build and saw their school canteen damaged and the oldest room had lost parts of its roof.
The next evening, relatives told me that the Congressman's men went to the village to distribute relief goods, but only to their political supporters. I was furious. How can they politicise aid? We are talking about the lives of people here. For the most part when I was in my province, I did not see any visible nor even rushed relief efforts to help the victims. In fact the local Commission of Audit denied a request by a local council to release relief funds before the typhoon. The stories coming out from the government's inefficiency and lack of human decency were absolutely horrendous.
Immediately after my father's funeral, my family decided to do our own relief work, from our own pockets, in our living room, we bought and repacked rice and tinned goods, and had at least 100 food packs, together with donations from employees of the British Council Malaysia (flashlights, first aid kits) we handed out half of it to the coastal village while inside our van and the other half we endorsed to the local Catholic Church for distribution to another town hit even worse. Throughout this time, there was no power and hardly any internet connection but I couldn't really complain. Thousands of lives had been lost and millions more were suffering so we had to think of things bigger than ourselves.
When I returned to work, I was shocked to see the boxes upon boxes of aid inside the office at the Sick Bay. I nearly cried. When Dr. Rizal said Cempaka will send aid, I did not realise it would be that much.
It was truly a humbling experience. It was heartening to see Malaysian students, parents, teachers, and staff help wrap and move goods into the Malaysian Red Crescent Society truck. Truly, it's a privilege to give and in the spirit of Christmas, what is more appropriate but lending a hand to those in need?
Special thanks to the Soo family, Malaysian parents who donated 440 boxes of bottled water. Thank you to Dato' Freida, Dr. Rizal, the rest of management, staff, teachers, parents and students of Cempaka Schools Malaysia for making this possible.
This photo I took when I went home November 2013.
Our biggest project to date
Promoting the Philippines is no easy feat. You have to get past such a deep, negative reputation both in local and international media, anachronistic attitudes by Philippine tourism officials, poor infrastructure and defeatist points of view from many Filipinos. Early in 2009, we started writing for Tourism Paradise Philippines, a Malaysian-owned blog, and about the same year on our own initiative, we put up its social media pages on Facebook and Twitter. The social media pages were a runaway hit. It was one of the first social media pages to promote the Philippines and it ran on a pro-bono, non-profit basis. The average reach of the Facebook site alone would average 1M each month and in some cases would reach 3.5M in one week. The site relied heavily on high quality images submitted through the website or found through other websites. There were zero advertising dollars spent. Today, the sites, with a current combined number of 600,000 followers, are among the most active, independently run pages promoting Philippine tourism content online.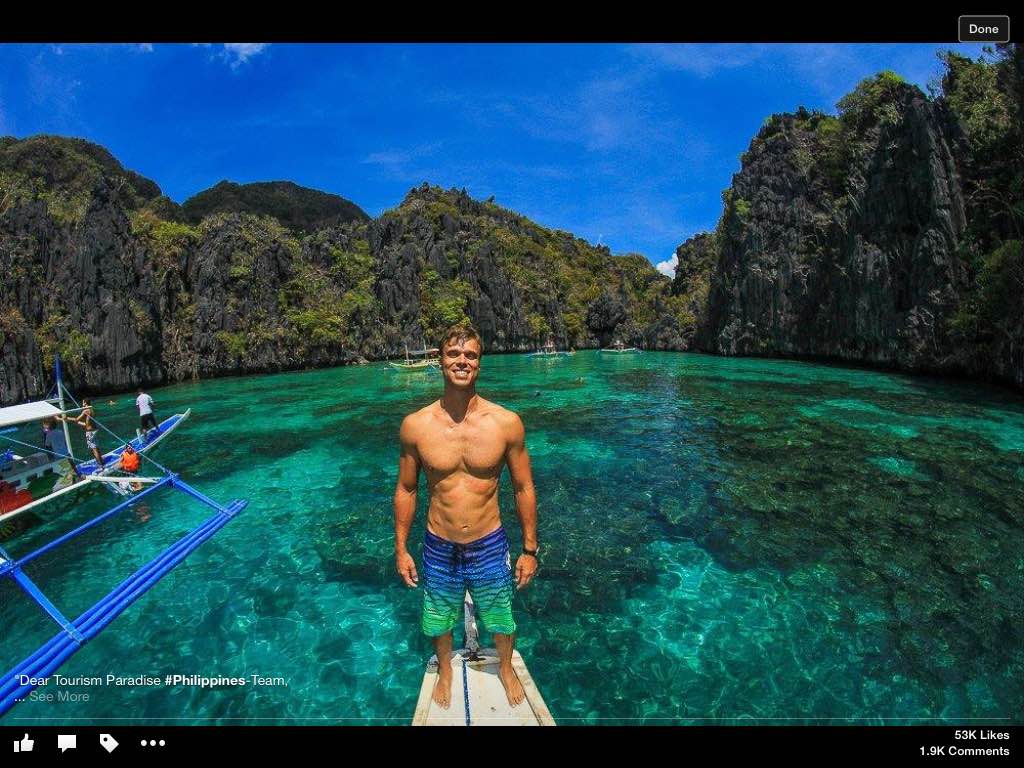 Getting the word out there
One of our popular posts on the page which garnered over 50,000 likes. The Tourism Paradise Philippines social media pages reach is truly global and we are constantly approached by local and foreign bloggers. This has benefited tourism stakeholders in the country through bookings and enquiries.
Through tourism, many communities have new hope and for many Filipino families, a way out of poverty. We can help through tourism. By visiting, we help create employment, put food on the table and send children to schools.
For hotel enquiries and holiday ideas in the Philippines, you may click on this link.
For specific destinations:
Saving Philippine Seas
It all started with a post on Facebook by our friend Andrew Macdonald about how protected Philippine marine life like shells and corals among others are being harvested wholesale in the Philippines. I saw the post and was appalled at the seeming inaction by the local authorities. I tweeted it to other prominent Philippine blogger friends like Noemi Lardizabal-Dado (@momblogger) of Blogwatch.PH and then it caught fire online.
Eventually, Save Philippine Seas was founded over a Skype Chat with Noemi, Dave Ryan Buaron (@xxxriainxxx; @Tourismpinas), Andrew and Jane MacDonald, Scott Allford (@all_eskat), Tonyo Cruz (@tonyocruz), Nix Cue Nicolas, Franky Branckaute, Blogie Robillo and Anna Oposa. Later on, Juned Sonido of University of the Philippines, and Jayvee Fernandez and the rest joined.
The start and timing was controversial, a few weeks later a large haul of corals, sharks, turtles were caught and it fired up the nation. The story went beyond viral. But after attempts with a Senate Inquiry and a few awards, the story died down, personalities within the group evolved and majority of its founders, disillusioned, left. Meanwhile, the research that Scott and myself started went unused and obviously the illegal trade of protected Philippine marine animals continued unabated and was relegated to the sidelines.
For more coverage on this matter, check out this article by Noemi Dado at the Philippine Online Chronicles.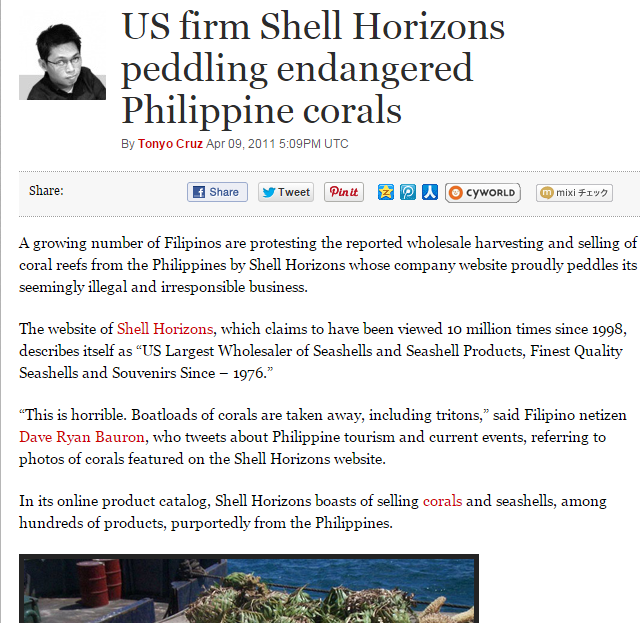 Shell Horizons
This was the company that caught our attention, sadly, it's just one of the many and it seems the Philippine government turns a blind eye to it.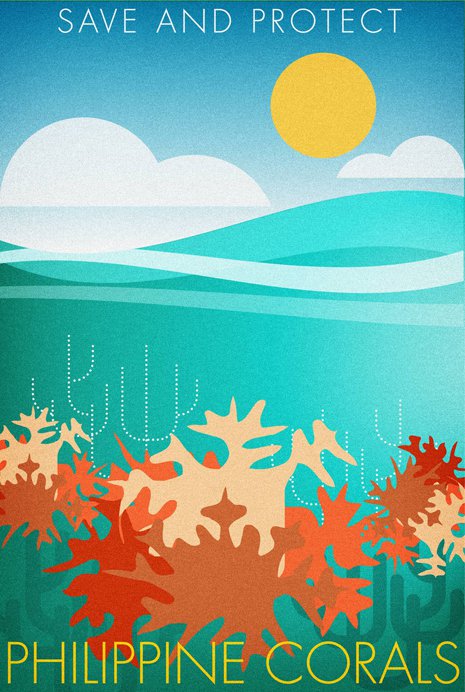 Save and Protect Philippine Corals
Jowee Alviar of Team Manila designed this poster in 2011 after Ryan Buaron requested his help in getting the word out on the massive coral poaching happening in Philippine seas.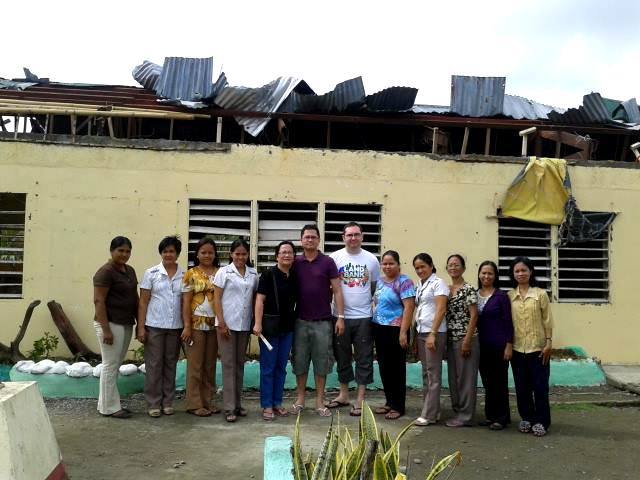 Haiyan/Yolanda Relief Drive
My Dad passed away November 8, 2013 after battling with urinary bladder cancer. He passed on, and few hours later, the strongest storm ever to hit land, Haiyan (Philippine name: Yolanda) hit my home province of Aklan. A few days after the funeral, we went to inspect the village where I was born and saw images of devastation.
The building behind us was a school building my late father helped built. We decided to pool some of our money and we bought notebooks, notepads and pens for the children of the school.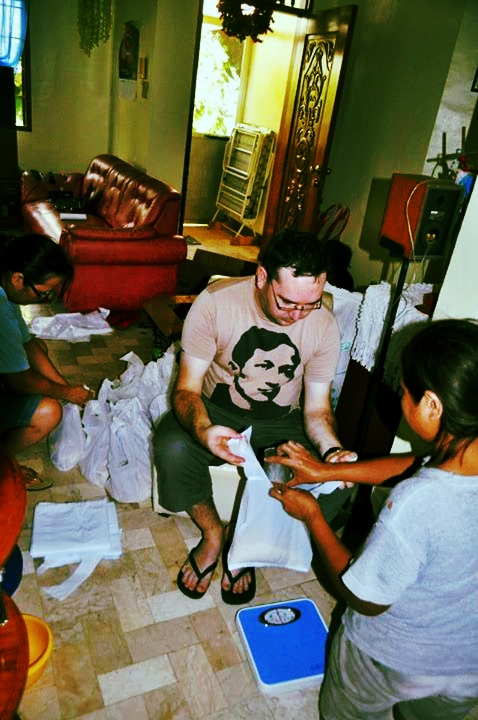 A little something
Aside from school supplies for children, we also did an impromptu relief drive for Yolanda victims in honour of my late father.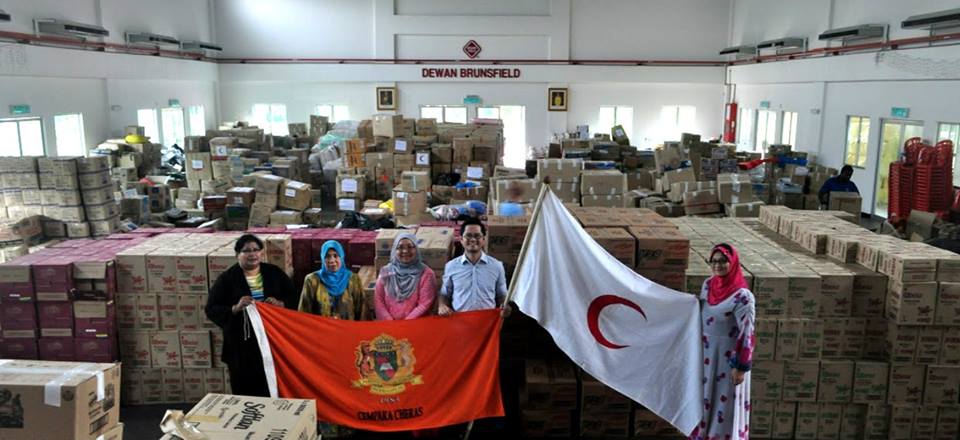 With Malaysian Red Crescent Society
Because I couldn't really trust the Philippine government's Haiyan/Yolanda relief efforts, I coursed through the donations from my company to the Malaysian Red Crescent Society and along with many other Malaysian companies, organisations and individuals, these boxes of food, clothing and many others were going to be airlifted to the Philippines.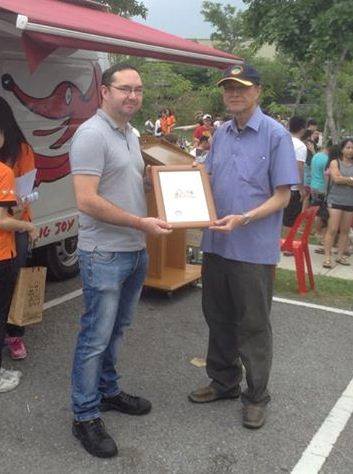 Animal Welfare: Trap Neuter Release Manage Campaign
Scott Allford receiving an award during the World Animal Day for our Trap Neuter Release Manage program in Bukit Bintang, Malaysia.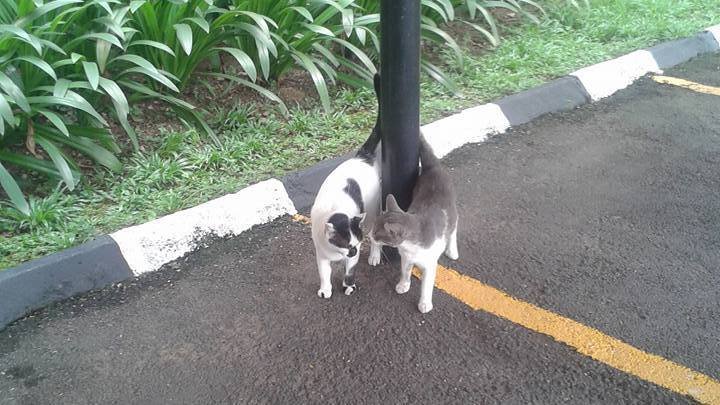 City Gardens Petition: Allow TNRM and Feeding of Stray Cats
In October 6, 2015, The Next Escape has received information from City Gardens Condominium to cease and desist from feeding the neighborhood stray cats that has been mostly spayed and neutered. By the next day, we took to the internet to rally likeminded people to overturn this arbitrary action. We have been conducting the feeding and TNRM program in the last 14 months without any complaints nor problem.
You may still sign the petition here or contact the City Gardens Condominium directly at:
CONTACT: City Gardens Condominium
Management Office, Mezzanine Floor, Tower Block 12,
Persiaran Raja Chulan, 50200 Kuala Lumpur
Tel: +603-2078 6558 Fax: +603-2078 2558
Email: management@citygardens.com.my
Please find below the full text of the petition:
Allow the City Gardens Feeding & TNR Program!
It has come to our attention that a few residents decided to take offence on our feeding, trap, neuter, release, manage program.
When we moved to City Gardens we could hear cat fights and mating calls all the time, that has now ceased. Studies confirm that once TNR stops reproduction, and therefore mating behaviors, the cats' relationship with residents improves. Colonies become quieter as behaviors like yowling or fighting stop, calls to authorities about the cats decrease significantly, and community morale improves.

When we moved to City Gardens the gardens were full of rats. On a few occasions they wandered into the cat traps. They can no longer be seen around the buildings. This reduces chances of residents contracting Leptospirosis from rat urine which can lead to kidney damage, meningitis, liver failure, respiratory distress, and even death.

Over the past few months the population has stabilized at around 6 cats. When we first started trapping cats there were up to 15 at any one time. The SPCA has estimated that there are 500 stray cats in Bukit Bintang. The 6 resident cats have set up their territory and keep the other cats away from their food source.

When we first arrived at City Gardens we noticed that stray cats constantly ripped open garbage bags to get food. This also attracted rats. This is now a very rare occurrence.

By cutting off the food supply of the resident cats we will encourage them to roam and partially move away. This will provide an opportunity for the 500 strays in Bukit Bintang to move into the territory. This is also the case if we remove the 6 resident cats.

Out of our current 6 resident cats, most are spayed/neutered, and all are generally healthy. Some cats in Bukit Bintang have shown signs of Sporotrichosis (a flesh eating fungus) which can can also spread to humans. By removing our healthy resident cats we increase the chances of infected cats entering the property.

When new male cats move into City Gardens they will begin to mark their territory by urinating around the buildings. This will then be followed by fights for territory which occurred frequently when we first arrived in the building.

We have run our Trap-Neuter-Release-Manage program at our own expense for the last 14 months as a community service.
We understand that some residents have complained about the smell of cat feces, although this was only an issue when a kitten entered the territory a few months ago as kittens don't bury their excrement as deeply.
We would be happy to discuss finding a different feeding location or consider setting up cat litter trays.
We understand that residents feel that they cannot open their windows because they cannot tolerate the apparent smell and that they would like to let the haze and mosquitoes enter their apartments freely.
We would like to ask any residents who wish to cease the feeding of the resident cats or arrange for their removal to sign a notice of their intent to do so. If any members of the City Gardens community contract Leptospirosis or Sporotrichosis as a result, we ask that these residents be held liable for legal, medical, and/or funeral costs which may be incurred.
There is no room for being inhumane and being mean-spirited in our community. We have accepted dogs and cats and other animals in our buildings and on our grounds. Are we going to teach cruelty in City Gardens Condominium?
CONTACT: City Gardens Condominium
Management Office, Mezzanine Floor, Tower Block 12,
Persiaran Raja Chulan, 50200 Kuala Lumpur
Tel: +603-2078 6558 Fax: +603-2078 2558
Email: management@citygardens.com.my
If you have any questions, feel free to drop us an email at hello@thenextescape.net.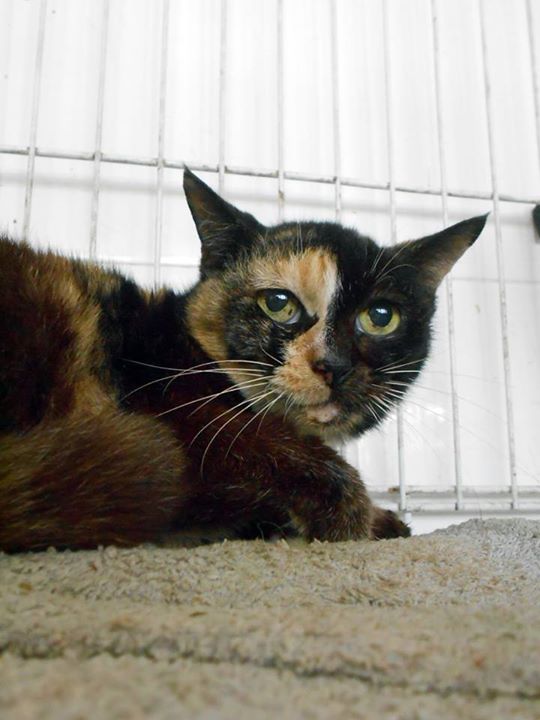 The Grand Dame
This beautiful calico was one of the cats we caught and spayed in Kuala Lumpur. We found out that she was a senior cat, so we had her adopted out so that she can live the rest of her life in relative comfort.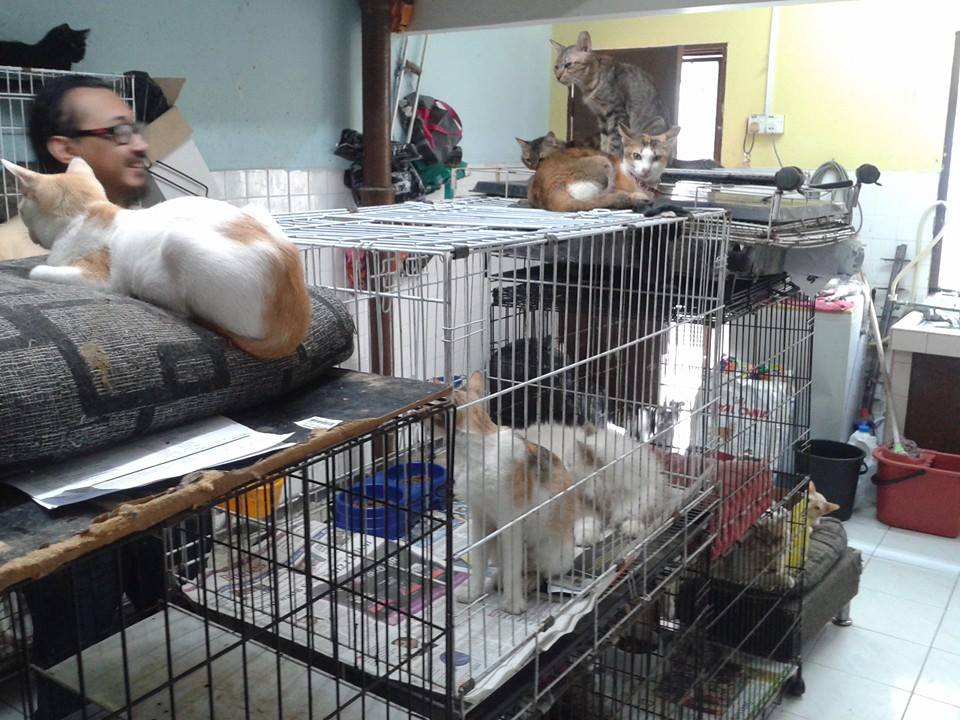 Home shelters
In Malaysia, there are many private home shelters like this one. We visited the shelter which helps out FIV,, FeLV, disabled sick cats in Shah Alam to donate some food and toys. S.I. Shelter took in a FIV sick cat that we were meant to adopt but couldn't. It is run by Muhamad Razeef Che Shamah. You may contact him directly through the link provided.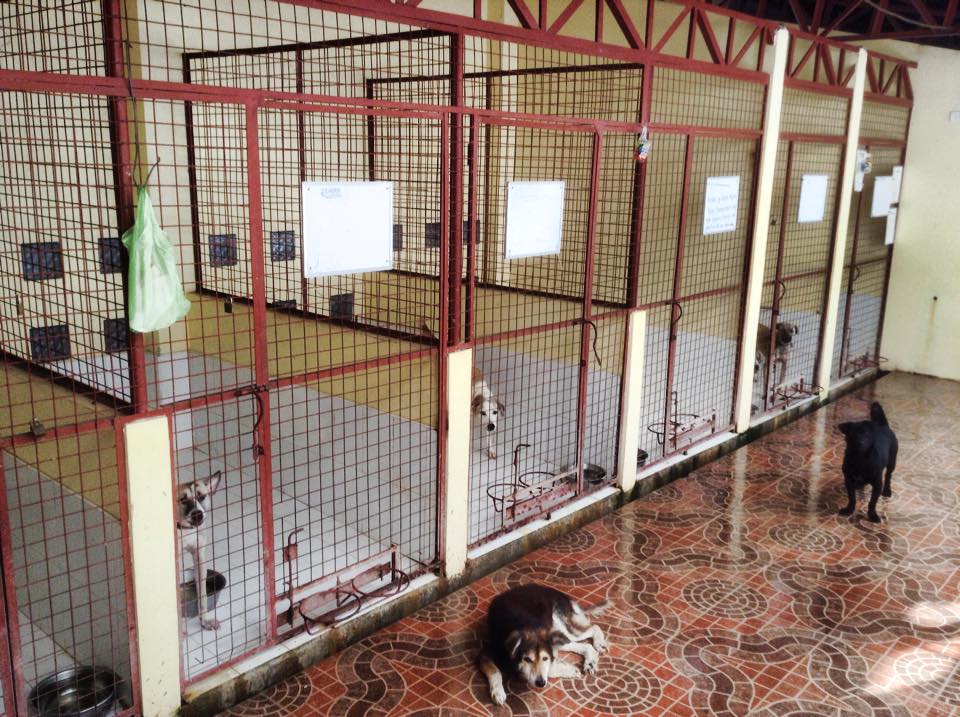 Animal Welfare Shelter in Kalibo
Another animal rescue and welfare centre that I visited was the Aklan Animal Rescue & Rehabilitation Centre. The facility cares for cats and dogs in Aklan, Philippines. The centre is funded through donations and is run by a Dutch NGO and staffed by locals. AARRC also takes and builds wheels for disabled animals.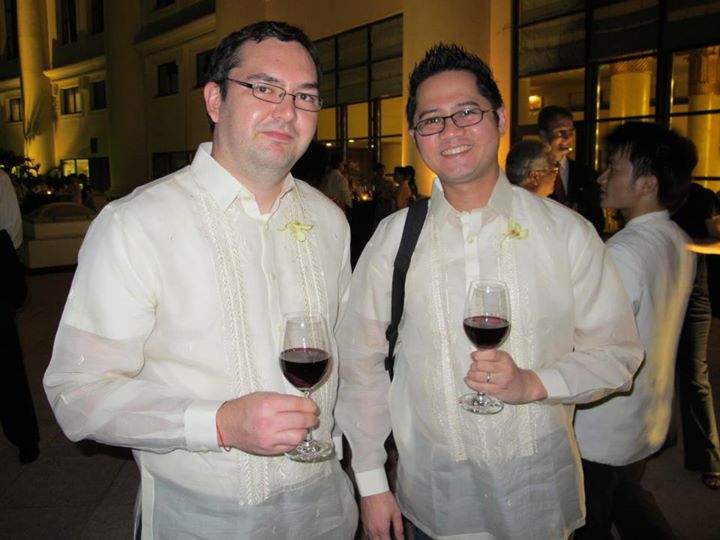 Japan Tsunami Fundraiser
We also attended a Japan Tsunami fundraiser in Hanoi. The proceeds of the event were to support rehabilitation and reconstruction efforts of the affected regions devastated by tsunami in Japan.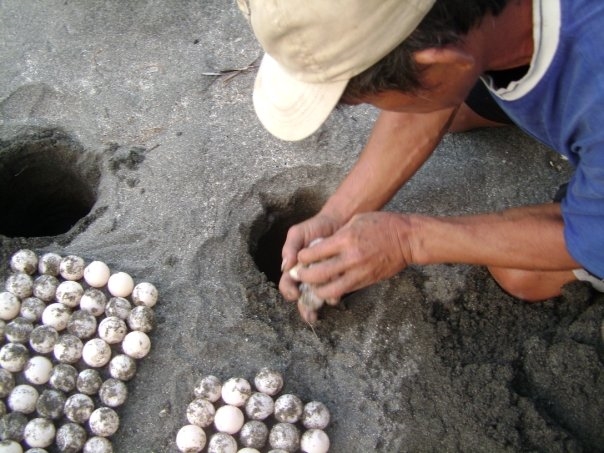 Pawikan Conservation
From poachers to conservationists, the people of Morong, Bataan now run the Pawikan Conservation Centre. This man in the photo was burying the eggs in the sand. We visited the facility and stayed the night to learn about the behaviour of the pawikans (Pawikan is Filipino for Marine Turtles). Morong, Bataan is one of the places in the country where they come back and hatch.
To help: please contact:
Bantay Pawikan Inc. – (Nida- +63.928.7185721/ Manolo- +63.906.6155546) bantay_pawikan@yahoo.com ; or if you wish to visit the centre and don't know how, the lovely folks at Bataan Tourism can certainly help you (+6347.2374476/+6347.2374785) – tourism_bataan@yahoo.com.